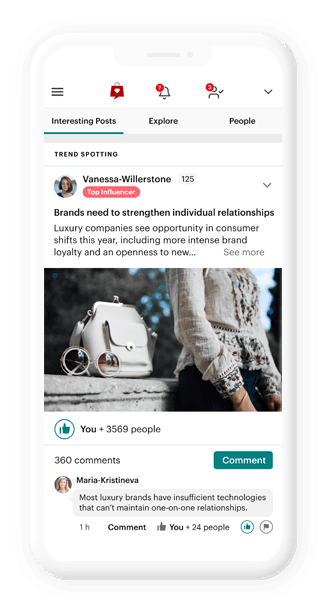 Create and Grow your Community with a native Social Network.
Improve engagement, reinforce brand awareness and increase loyalty with an unique and fully customizable Social Network platform.

Request a Demo
A Social Network platform for Brands, Organizations and Influencers.
Focused on content and user engagement.
Enriched with a full set of marketing tools.
Available through App (Android & iOS) and desktop.
Integrated with your website or stand-alone.
Explore Platform
Full control on your Community and Brand Experience

Your Users
Create social Communities around your users, customers and members.
Build Communities of Interest and engage people who share the same passion.
Grow Communities of Practise and allow members to develop expertise and skills.
Your Data
Leverage your content and users data to create effective marketing campaigns.
Synch the platform with external applications and maximize the benefit of data integration.
Request a Demo
Create value with your Community
Increase engagement, reinforce awareness and loyalty, improve feedback and retention with our Social Network Platform.
Loyalty
Retain users and customers, increase customer lifetime value and build long-lasting relationships.
Engagement
Offer a dedicated space for customers, employees an users to interact, share ideas, listen and stay connected.
Advocacy
Encourage advocates that support Brand values, promote services, share content and connect with a larger audience.
Support
Grow a Community that empowers user-generated content and foster users to ask questions, solve problems, and share new ideas.
Amplify your business and organization Stategy

Market Research
Gather and enrich customer insight with content and tools designed to be intuitive, engaging and safe.
Feedback & Quality Improvement
Listen to users and customers, collect product feedback, validate new ideas, tune product development.
Innovation
Promote innovation with new ideas, products, services or models that address unmet needs, change and growth.
Enterprise Culture and Change
Improve communication and knowledge sharing, stimulate organization-wide collaboration and culture.
Start your own Social Network now!
Book now a One-To-One personalized product tour of SelfCommunity